Tom Griffiths – Trumpet
Tom Griffiths began his musical career at the age of 9 playing the cornet in his local brass band and the West Sussex County ensembles. Following four years of attending the Junior Guildhall School of Music, Tom was awarded a place at the Royal College of Music to study a Bachelors Degree.
As a scholar at the RCM, Tom also went on to complete a Masters degree obtaining a distinction. Whilst at the RCM Tom's passion for chamber music led to him becoming a founder member of the highly-acclaimed ensemble Kensington Brass.
Tom is also an alumnus of the European Union Youth Orchestra, having played with the orchestra on their marathon 2016 summer tour under the direction of Vasily Petrenko and Bernard Haitink.
Able to turn his hands to a variety of styles, Tom is fortunate enough to have performed with the National Youth Jazz Orchestra, Zone One Brass, and English Touring Opera, as well as the UK's busiest brass quintet, Oompah Brass.
Alongside performing, Tom is an enthusiastic and committed educator. He currently holds teaching posts at two of the country's leading independent schools; Bradfield College and North London Collegiate School. Leading ensembles and coaching, have increasingly become central aspects of his portfolio of work. Tom was recently appointed as Principal Conductor of the Kew Wind Orchestra, one of the UK's foremost amateur Wind Orchestras.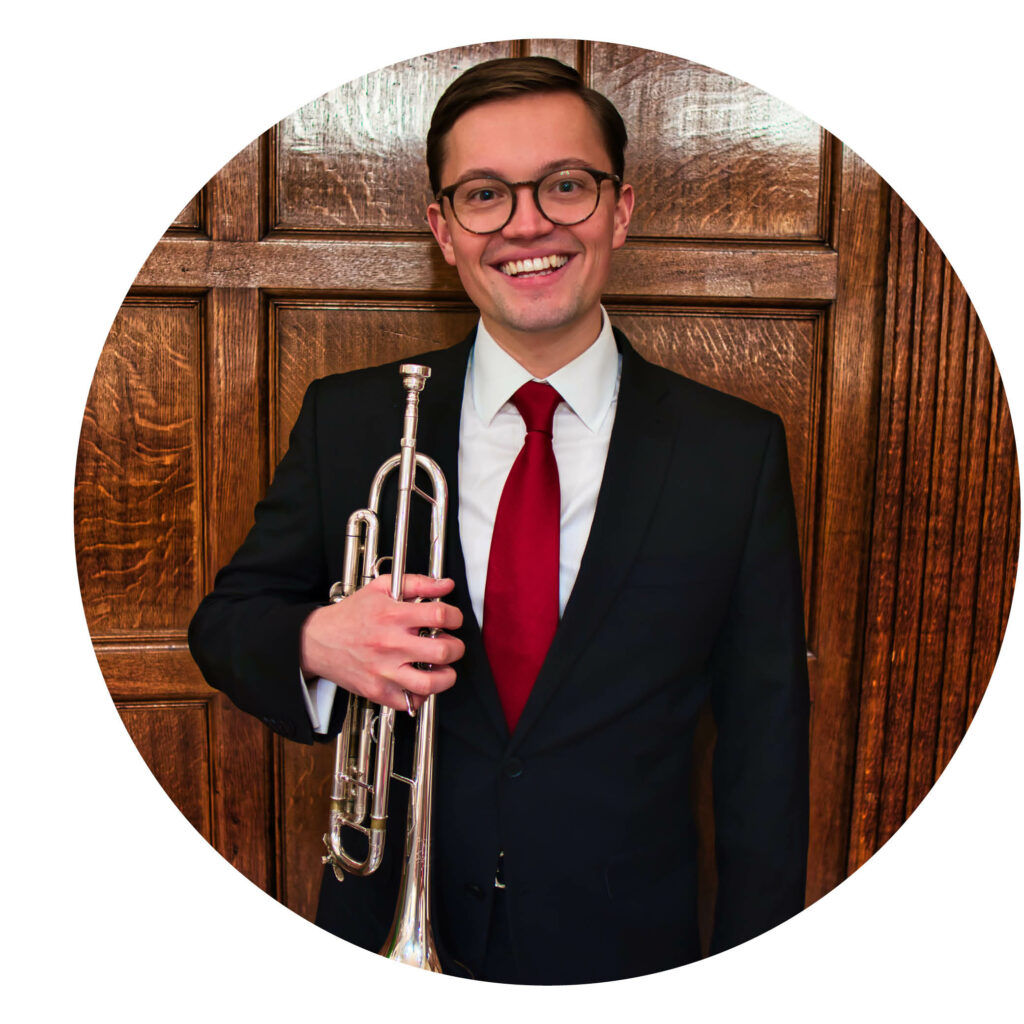 Ryan Linham – Trumpet
Ryan Linham graduated in 2014 with First Class Honours as a Foundation Scholar at the Royal College of Music, London. He was appointed the trumpet position in the New European Ensemble (Den Haag) that year, and has begun to forge a successful freelance career in the UK, performing as guest Principal trumpet with the BBC Symphony Orchestra, London Symphony Orchestra, London Philharmonic Orchestra, BBC Philharmonic and BBC National Orchestra of Wales. He has also held trials for the Principal Trumpet positions in the City of Birmingham Symphony Orchestra, Ulster Orchestra and Royal Scottish National Orchestra. In-keeping with his position in the NEuE, Ryan has appeared with new music ensembles such as London Sinfonietta and Birmingham Contemporary Music Group.
Ryan is an active educator and composer/arranger, and the manager of the Symphonic Brass Ensemble Kensington Brass. Highly passionate about Brass chamber music, Ryan has been a member of many ensembles, and is also currently the resident arranger for 3 groups and a residential course The Brass Academy. A selection of his music is available at www.ryanlinham.co.uk, Warwick Music Publishers and Superbrass Publishing. He regularly plays with renowned London-based Onyx Brass Quintet, and has also appeared with Superbrass.
Ryan is currently teaching Trumpet at Aldro Boy's Preparatory School and Charterhouse School in Surrey. He also coaches for the National Children's Orchestra and The Brass Academy courses.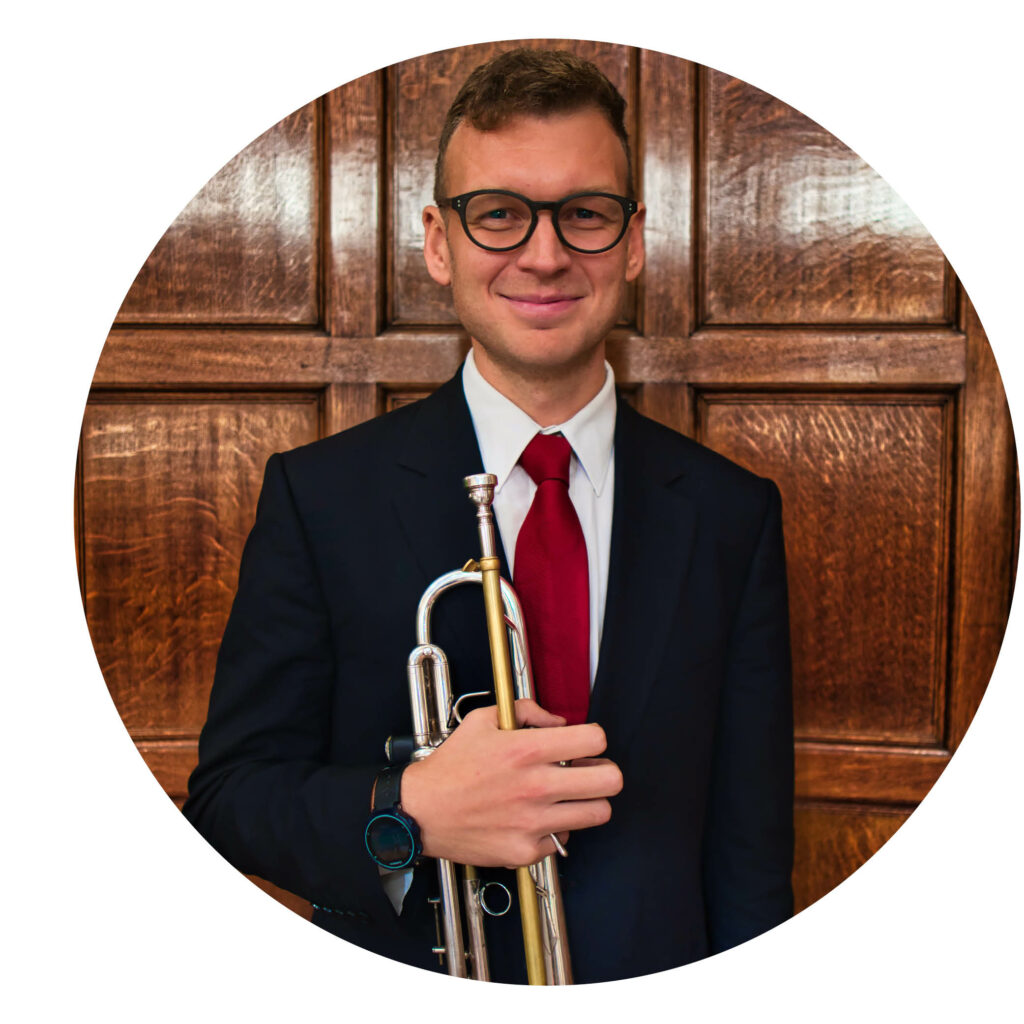 Toby Street – Trumpet
Toby Street grew up in South East London, He started playing cornet at the age of 8 and went through the Bromley Youth Music Trust learning with Ray Allen, Tim Heywood and Kevin Street.
Toby was awarded a scholarship to study at the Royal College of Music and the Royal Academy of Music mainly studying with Paul Beniston and Alistair Mackie. He also completed a joint principal jazz degree from the RCM studying with Martin Shaw and Mike Lovatt.
Toby is a member of the Royal Philharmonic Orchestra and performs regularly many leading UK orchestras including the London Philharmonic Orchestra, the Philharmonia, the BBC Philharmonic Orchestra and the City of Birmingham Symphony Orchestra. He also performs regularly with many other UK orchestras. In August 2018 Toby was delighted to join the Royal Philharmonic Orchestra as 4th Trumpet.
In addition to his Orchestral work he is also a keen enthusiast of chamber music and is a founding member of the Riverside Brass Quintet and Neoteric Ensemble. He has also worked with London Brass, Superbrass and Septura.
Toby's commercial work includes large arena performances with Bastille, The Hoosiers, Public Service Broadcasting as well as commercial session work for CD releases, film scores and library music. Toby also regularly performs as lead trumpet with Oompah Brass.
Toby is also a keen composer and an experienced arranger. Recently, he has arranged Christmas carols for the Philharmonia Brass quintet's Christmas E-card and also completed brass and vocal arrangements for Michael Mcintyre's Christmas Show.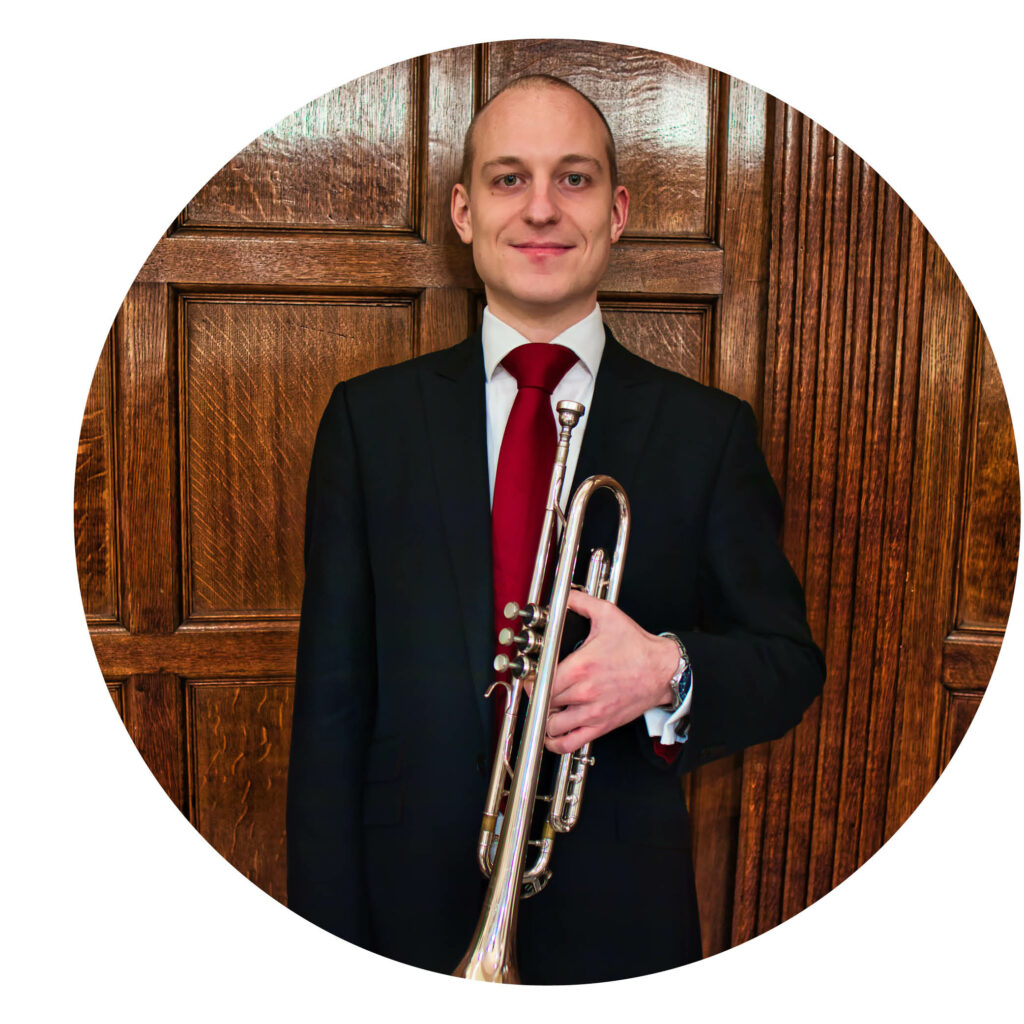 Adam Stockbridge – Trumpet
Adam is from Skipton, North Yorkshire and was a pupil at Chetham's School of Music before studying in London at the Royal College of Music, graduating with a First Class Honours Degree before completing his Masters in Performance. During his time at the RCM Adam was a two time winner of the RCM Trumpet Prize and also performed Copland's Quiet City with the RCM Symphony Orchestra, conducted by John Wilson.
After leaving the College Adam participated on the London Philharmonic Orchestra's Foyle Future First programme and has performed with orchestras including the Philharmonia and LPO. Adam has also played and recorded with a variety of groups including the Gabrieli Consort, European Brass Ensemble and Multi Story Orchestra. As soloist, Adam has performed with the St Cecilia Orchestra, Settle Orchestral Society and Blackpool Symphony Orchestra.
Adam is brass teacher at Hurlingham School, Putney and is the principal trumpet of the Orpheus Sinfonia.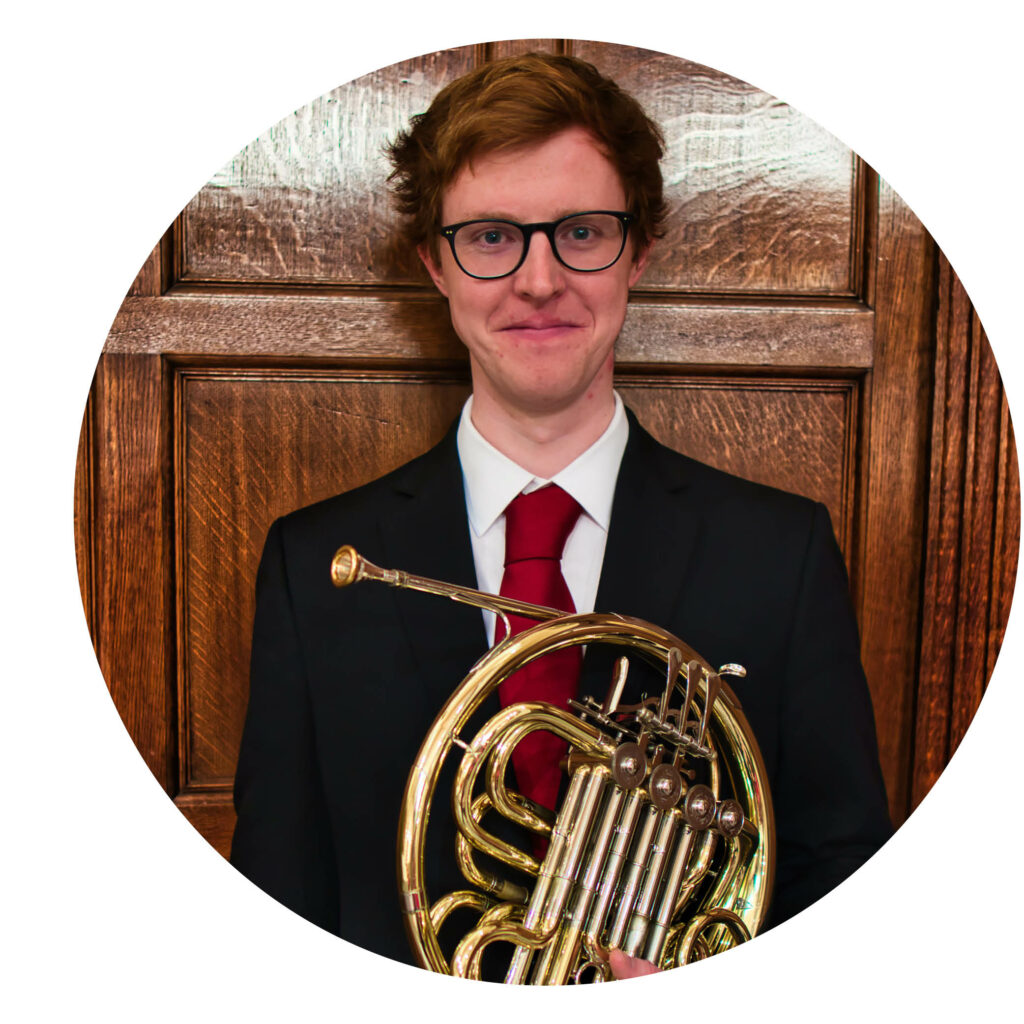 Finlay Bain – French Horn
Finlay Bain began his musical training as a choral scholar at St. Paul's Cathedral and later at Hampton School where he started learning the horn with Richard Kennedy. Whilst at school, he was a member of the National Youth Orchestra of GB and was a Brass Finalist in the BBC Young Musician of the Year competition 2010 .
Finlay studied at the RCM with Simon Rayner and John Ryan – and then at the Guildhall School of Music and Drama with David Pyatt and Alec Frank-Gemmill. During his studies, he was a member of the Gustav Mahler Jugendorchester and the European Union Youth Orchestra.
He has performed professionally with most of the major symphony orchestras in the UK including the London Symphony Orchestra, the Orchestra of the Royal Opera House Covent Garden, the Philharmonia Orchestra and the City of Birmingham Symphony Orchestra. He joined the horn section of the Royal Philharmonic Orchestra in 2019.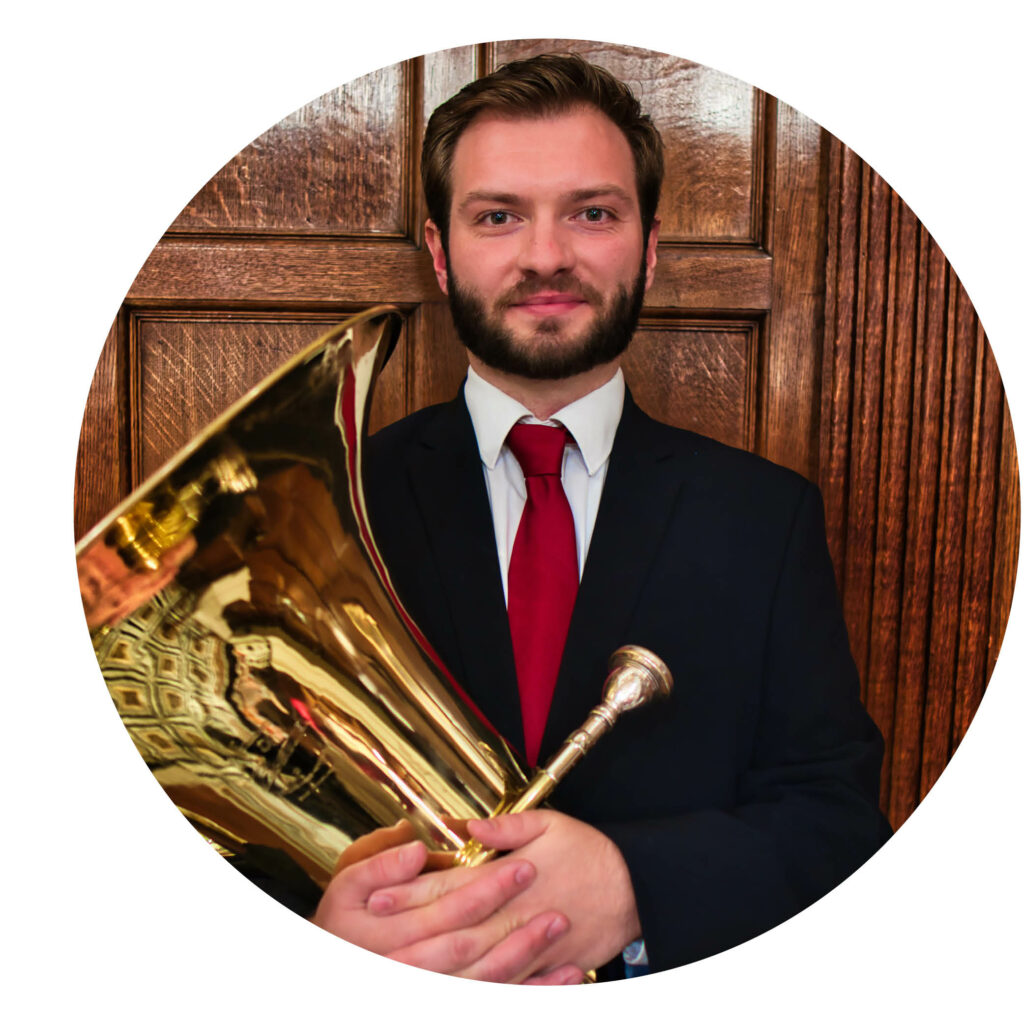 Stephen Calow – Tuba
Stephen Calow is a freelance Tuba player based in London. He has performed with several professional orchestras including the London Symphony Orchestra, London Philharmonic Orchestra, Philharmonia Orchestra, BBC Symphony Orchestra, City of Birmingham Symphony Orchestra, Bournemouth Symphony Orchestra, London Sinfonietta, Royal Ballet Sinfonia and the Orchestra of the Royal Opera House, Covent Garden. Stephen has been Tuba player in Kensington Brass since its inception in 2011.
Outside of the concert hall, Stephen regularly performs with Oompah Brass and has played Sousaphone with Hackney Colliery Band and Box 9 Drumline. He has also recorded at Abbey Road and Air studios for both classical and commercial releases.
Stephen is from Leicestershire and in 2017 he graduated with a Masters degree from the Royal College of Music, where he studied with Owen Slade, Lee Tsarmaklis and Peter Smith.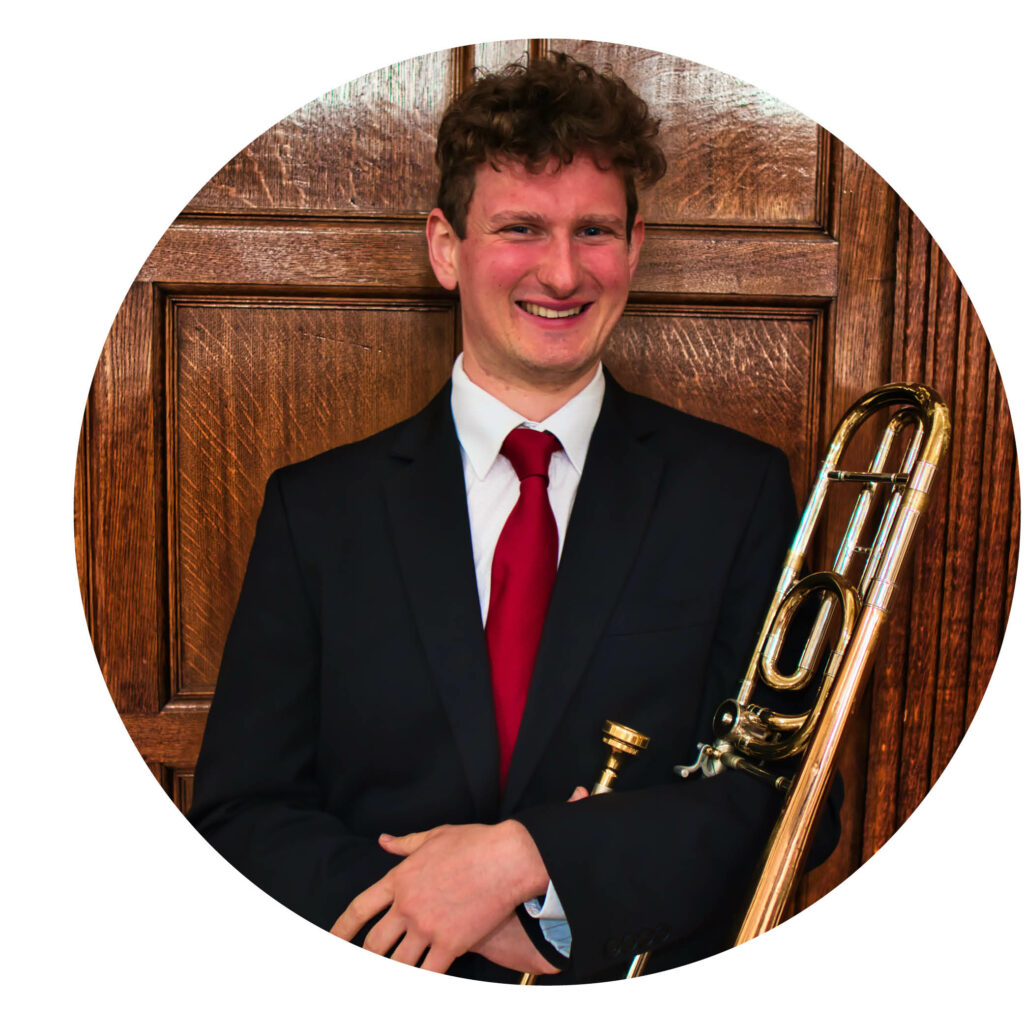 Tom Barton – Trombone
Tom began playing the trombone aged 14 when one was bought for him as a birthday present and quickly fell in love with the instrument, playing with youth groups in his native Hampshire. Deciding to pursue music as a career, he accepted a place at the Royal College of Music as a Michael Quinn Scholar studying with Lindsay Shilling, Byron Fulcher, Amos Miller and jazz with Richard Edwards.
After graduating from the RCM with 1st class honours and a gaining a Masters Degree with Distinction, he has combined varied professional playing commitments with arranging work and teaching at Winchester College, Bryanston and Bedales Schools and on the Hampshire Specialist Music Course at Peter Symonds College as part of a busy portfolio career.
When not doing something musical he can be found running, cycling very slowly up any given hill or playing cricket for the RCM Alumni team, the Prince Consort XI.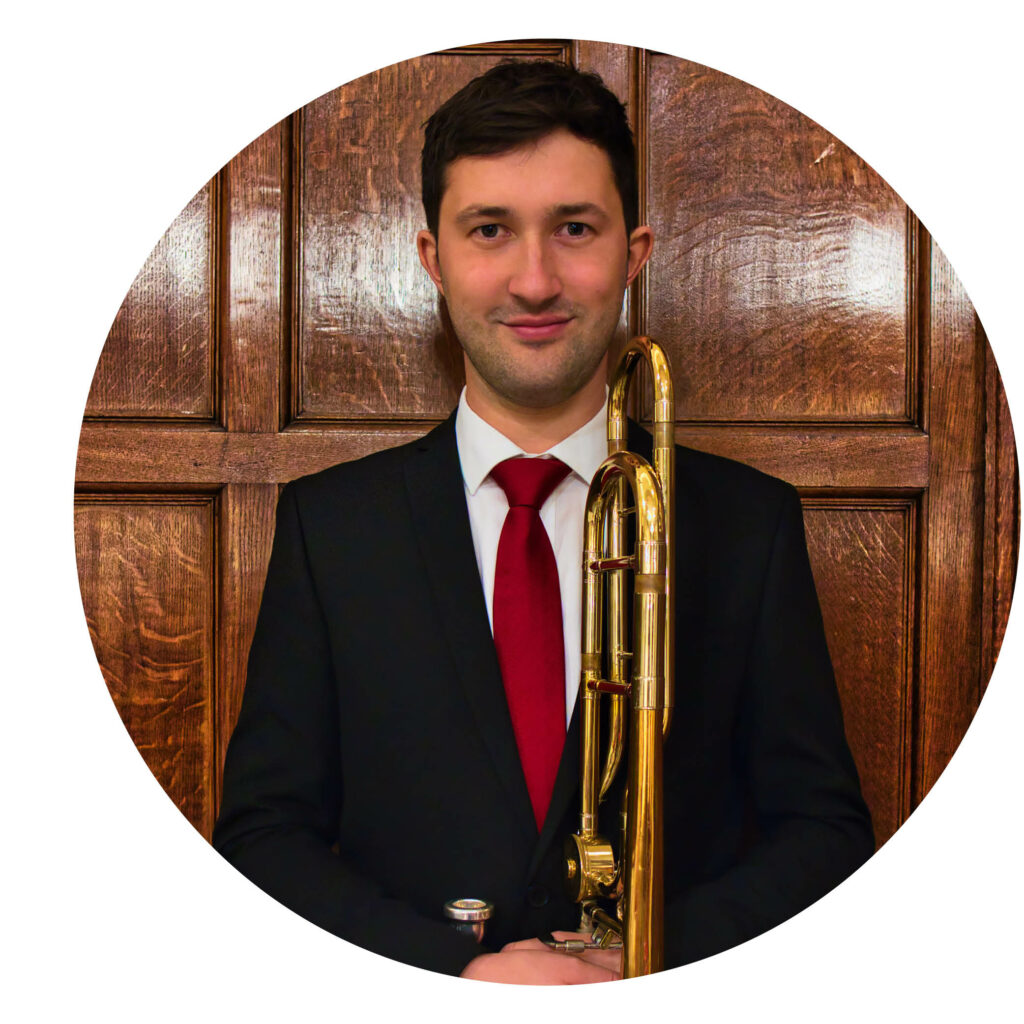 Jonny Hollick – Trombone
Jonathan grew up in Plymouth and started playing the trombone at 14 years of age, with his local youth brass band which was run by his Father.
In 2011, Jonathan gained a place at the Royal College of Music in London and studied under the tuition of Byron Fulcher (Philharmonia Orchestra) and Lindsay Shilling (Royal Opera House Orchestra.)
In his time there he won a series of awards, including the Trombone Solo prize two years running, the Brass Chamber Music competition and the British Trombone Society Student of the Year award.
Upon Leaving the RCM, Jonathan has worked professionally with some of the UK's top Orchestras such as The London Symphony Orchestra, Philharmonia Orchestra, Royal Philharmonic Orchestra, BBC Symphony Orchestra and London Sinfonietta, to name a few. In 2018, Jonathan was appointed as Principal 2nd Trombone in the BBC Scottish Symphony Orchestra, a position he still holds today.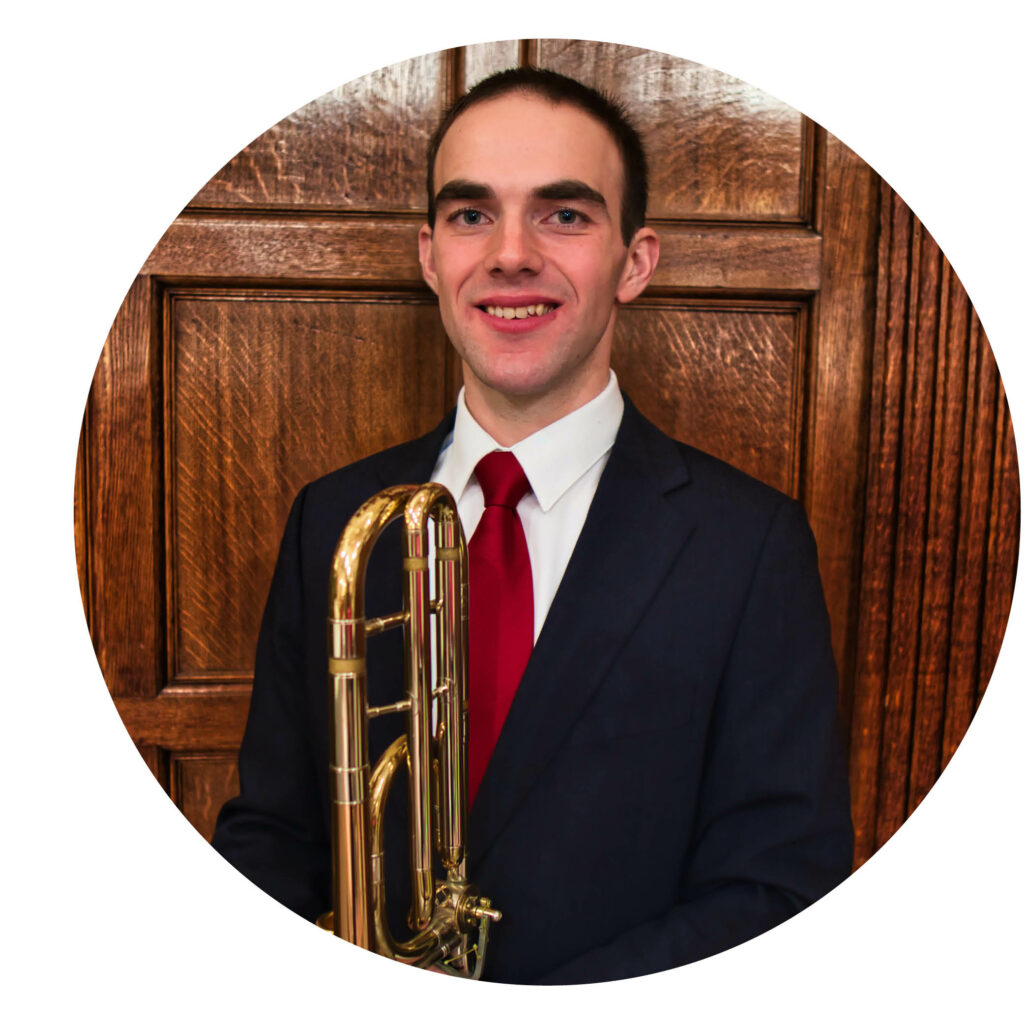 Gordon Maclachlan – Trombone
Gordon began playing trombone at his local brass band in Yorkshire when he was 11. After 5 years of playing in a diverse range of ensembles locally he moved to Manchester to study at Chetham's School of Music for Sixth form. Whilst studying at Chetham's Gordon was a member of the National Youth Orchestra. Gordon gained a place to study for his degree at the Royal College of Music, studying with Byron Fulcher, Lindsay Shilling and Graham Lee, after graduating he continued studying privately with Denis Wick.
In 2015 he joined the Royal Air Force as a musician and is now Principal Trombone with the Band of the RAF Regiment. Gordon is married to his wife, Victoria, and together they have a daughter, Elsie, and Wilfred the dog. In his spare time Gordon enjoys fixing his 1960s Land Rover, cycling, running, walking and baking lots of cake.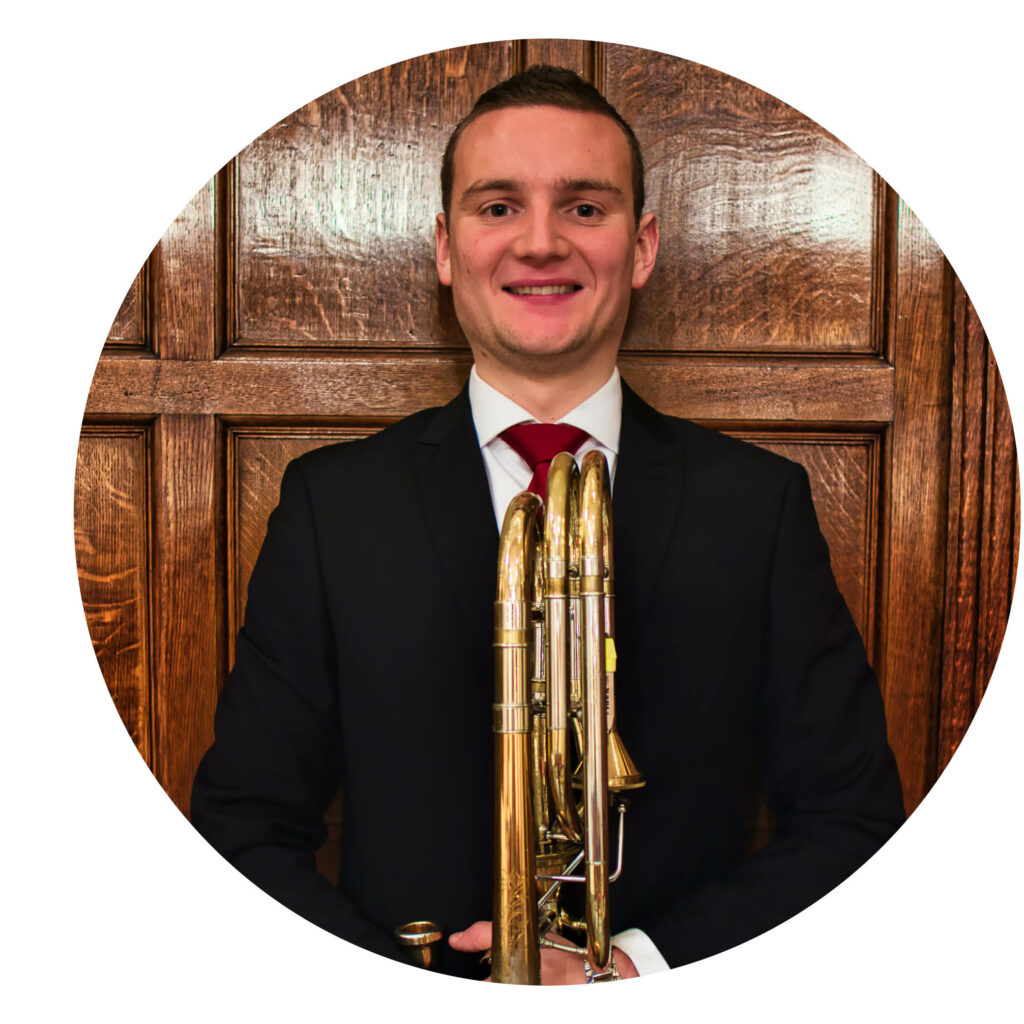 Jim Alexander – Bass Trombone
Jim started playing the trombone in 2002 and studied with the East Sussex Music Service through to 2009 under the tutelage of Jon Penton. Jim started on tenor trombone, but after his grade 8 in 2006, made the switch to bass trombone and started to look towards the possibility of a career in music. Jim commenced his studies with Dave Stewart at the RCM in 2009 as a foundation scholar and in his third year, became a founding member of Kensington Brass. He completed his undergraduate degree in 2013 and his masters in performance degree in 2015.
Since graduating, Jim has enjoyed a busy and varied career, combining teaching for Wandsworth Music and Bolingbroke Academy with performing across London. Jim has played with the National Symphony Orchestra and Southbank Sinfonia but has moved towards theatre work, deputising in a number of West End shows, including Wicked and Les Misérables.